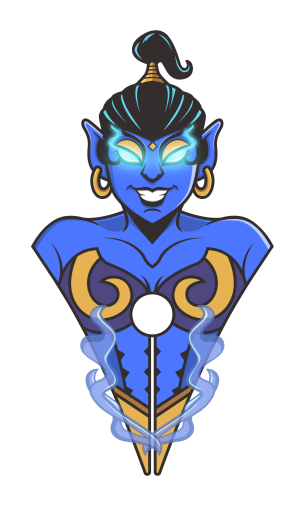 BOARD GAME TRANSLATION
Most board game publishers don't have a dedicated localization expert on their team. Usually, managing translators is just another thing a publisher's CEO or Marketing Manager needs to take care of.
The Geeky Pen takes that off your hands, so you can focus on other things. To give you an idea of what to expect when you choose to work with us, let's briefly go over our board game localization process.
step one
TRANSLATION TABLE
When you first send us your rulebook, chances are it's going to be in PDF format. Before we can start doing any work on it, the first step is to create a clean translation table. Why?

1) Our translators use professional translation software, like Trados or memoQ. Streamlining the format helps them to create reusable terminology databases. This means your future translations will have the same consistent terminology and style.

2) The graphic designer needs to be able to easily spot what goes where. The convenient cell layout helps them with that, even if they don't speak the target language.
step two
TRANSLATION PHASE
While they're translating, our translation teams have access to a question sheet. They can use it to ask you questions about the rules, report any errors they found in the source text, and even propose suggestions to certain paragraphs or examples that might be unclear or ambiguous.

The question sheet is forwarded to you after the translation phase is over. All the teams will be able to read your responses and update their translations accordingly. This allows us to make sure your localized rulebooks are consistent across all languages, and it also serves as an extra proofreading round for your source documents. Maybe we'll spot something you didn't think of before!
step three
PROOFREADING PHASE
When the translator is finished and the questions in the sheet have been answered, the proofreader will kick into gear. They will check the translator's work based on the style guide for their  language,  gather  the  information from the question sheet, and propose adjustments.

The translator and proofreader will then discuss potential changes and work on the translation table together, until both of them are happy and agree on a final version of your translation.
Once the translation has been finalized, it's time to transform your localized text into printable PDF format. We call this the DTP (desktop publishing) phase, or simply the InDesign phase.

Some publishers prefer to use their own graphic design team  for  this  step,  but  if  you  don't  have  one or if your team is currently unavailable, one of The Geeky Pen's designers can take care of it for you.

That way, all you need to do is provide us with your source texts and we'll take care of everything from A to Z, delivering finished rulebooks, boxes and cards that are ready to be printed.
step five
FINAL PROOFREADING PHASE
After all of the game's language-dependent components have been placed into PDF format, both our translator and our proofreader will perform a final check of your files.

Our teams will communicate with the graphic designer and annotate the PDF files. They will report issues like missing words or incorrect formatting, or shorten sentences that take up too much space.

Finally, our teams will ensure the layouted rulebook is identical to the translation table. That way, you always have the most recent version of your text available in editable format. Great for when you're planning a second edition or expansions of your game down the road!
are you
READY TO TALK TO US?
At The Geeky Pen, you can expect the following:
Professional translation by a experienced game translator
Professional proofreading by a separate translator
Discounts for ordering multiple languages
Optional InDesign Implementation
Full Project Management
Send us your rulebook, and receive your free quote within 48 hours. Easy peasy!
What our Clients say:
The Geeky Pen works fast, and well!
We often rely on them for translations from English (or French) to Dutch.
Jessica P. - Asmodee Belgium
What our Clients say:
We are very happy that we chose to work with The Geeky Pen
for the editing and translation of our first game GigaWatt.
They made our lives so much easier, were very flexible and ensured a quality result.
Looking forward to our next project together!
Milo v.H. - Play for the Future
What our Clients say:
The Geeky Pen is a convenient and professional translation service.
The fact that they are specialized in board games only puts a cherry on top of their good work ethics and professionalism.
David E. - Devir
What our Clients say:
TGP's attention to detail, consistency, and efficiency are unparalleled.
I love working with these folks!
Walter B. - Arcane Wonders
What our Clients say:
Professional translation with DTP processing in one house, that's what you want.
Michal S. - Albi
What our Clients say:
The Geeky Pen not only helped us translate our games into various languages, but also to reassess our own localization processes!
Flo d.H. - 999 Games
What our Clients say:
Many games at Piatnik have had countless 'shaky' translations over the years.
A good translation is paramount for the success of a game, while a bad translation can bury it. I have come to realize that board gamers really appreciate a solid translation, and that's why I'm glad we found a team that specializes in our field.
Robert H. - Piatnik
What our Clients say:
Quality, responsiveness, quality! Thank you! 🙏🪓
Antoine R. - Lumberjacks Studio
What our Clients say:
The Geeky Pen team is very professional, available, quick and efficient.
They're not just translators, but also players.
They don't hesitate to ask questions and - if necessary - offer solutions.
Etienne E. - Geek Attitude Games
What our Clients say:
I met with Paulina in Essen, and she was awesome! I loved everything about your presentation, and it is obvious that your team understands and loves games.

Jason E. - Dyce LLC